Another calendar year comes to a close and I've had the honor of having my Limited Edition Fine Art Nature Prints provide wall art and home decor for numerous clients across the continent.Thank you!
2019 was a monumental year in my creative vision. I grew as an artist and produced my most meaningful work to date, and with the ideas and themes that I'm currently working on and exploring, 2020 looks to be bringing more of the same. It's an exciting time for me as an artist.
Here I've compiled my favorite prints of the year. Each of these images holds a special place in my heart, and I'd be honored if they held a special place in your home.
If you would like to become a collector, these prints and others in my portfolio can be purchased by clicking through to the photo page by using the 'Prints Available' link and selecting your presentation option underneath the image. The images are available as gallery-quality Lumachrome Acrylics and durable Chromaluxe Metal Prints, both which come ready-to-hang and have a frameless modern look. I also offer a loose Fuji Flex print if you would like to have it framed by your local framing professional. If you would like to learn more about my Limited Edition Fine Art Nature Photography Prints, visit my About Prints page.
If you would like to envision these photos in your space, I offer a free mock-up service where I can digitally add the photo to your space. All you need to do is send me a well-lit photo of where you would like to hang it and I'll take care of the rest! Or, if you have an iPhone or iPad, you can virtually view the image in your space using the augmented reality service by following the instructions below.
---
Best Nature Photography Prints of 2019
---
Early Bright is one of my favorite images from the year. It's an image that I had attempted to capture for numerous years but was never satisfied with for various reasons. In February I was finally able to finally get exactly what I wanted, which was great because when I returned in November, the grasses no longer had the shape to them that I fell in love with. Captured in the Owens River Valley at the base of the rugged Sierra Nevada Mountain Range, it's an image of the first hint of morning light illuminating the winter grasses and trees. I painstakingly captured every detail in this photo and the way that it presents itself in print is stunning. When printed on Lumachrome and properly lit, the golden grasses and other light areas take on a luminance that GLOWS. It almost looks as if it's a television screen. Vivid and with a pleasing color palette, this print adds a touch of classy color to any room. It's best in neutral spaces for an attention grabbing centerpiece, or in warm-toned spaces for a complimentary look. It's hard to go wrong with this print and once you see the amazing detail, you'll only appreciate it more with every look.
Early Bright brings a colorful splash of nature home decor in a neutral city loft.
The trees contain a tremendous amount of detail.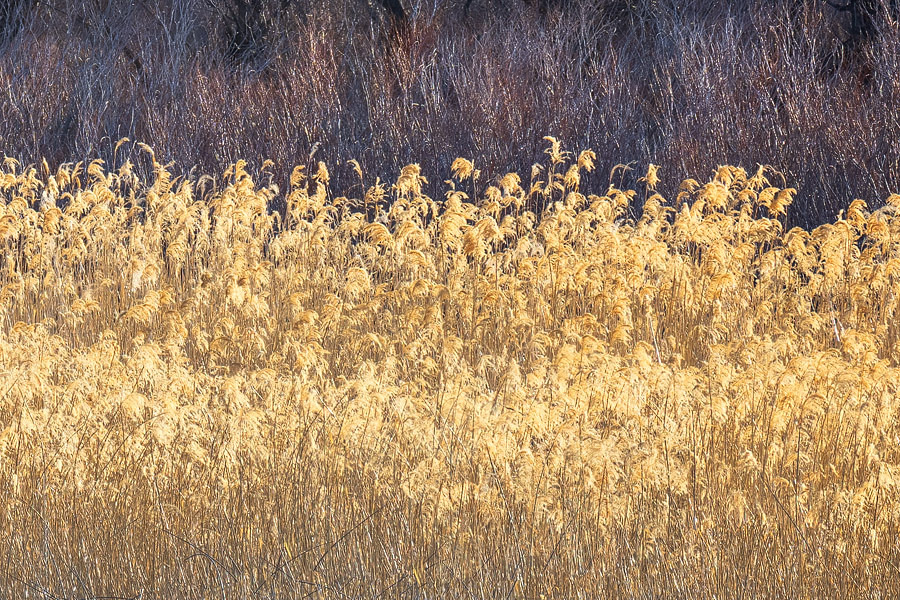 The detail in the grass is rivaled only by the way they glow on your wall when properly lit.

---